About Cynthia L. Bischof
Cynthia L. Bischof was a very successful 43-year old commercial real estate broker who lived in Arlington Heights Illinois. After breaking up from a relationship that she had been in for several years, her ex-boyfriend stalked her for more than 9 months before ultimately taking her life after leaving work on March 7, 2008 in the parking lot of her employer in Elmhurst Illinois. As part of her countless efforts to safeguard herself from stalking and the perpetrator, Cindy spent many court appearances lobbying for the judge to require the offender to be required to wear a GPS monitoring bracelet as a means to offering her an added layer of safety. The judge stated it was not within his capability to offer this type of safety tool. Cindy was a visionary that was clearly ahead of her time.


Cindy left an indelible mark on those lives she touched. Her situation captivated the media and those that learned of her story. Cindy's story helped to shine a light on the often-suppressed plight of others that faced similar domestic violence and stalking situations. Cindy's law helped to facilitate other laws related to stalking and the handling of offenders that violate court ordered orders of protection. In the 24 months after Cindy's murder, the CLB Foundation lobbied to pass The Cindy Bischof Law in Illinois, Indiana, and Wisconsin.


Be the Change You Want to See in the World
It is with Cindy's vision and her desire to have been allowed GPS Monitoring technology as a safeguard that we honor and tribute her by carrying through on her vision. Cindy would have wanted all domestic violence and stalking victims from all states to be given an opportunity to be granted this added layer of protection from their offenders just as she has hoped for.


Cindy left behind her parents Frank and Barbara, brother Michael, and an incredible number of friends and colleagues that were fortunate enough to have come into contact with her.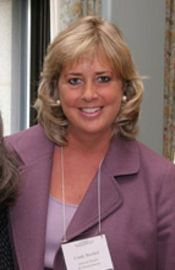 Mission
Since immediately following Cindy's death, The Cynthia L. Bischof Memorial Foundation has been catalyst for legislative and societal change.


Our mission is to promote leading visionary ideas through disruptive thinking which provides meaningful safeguards to protect victims of domestic violence.


Vision
The CLB Foundation envisions a future in which all 50 states will have passed laws to allow judges to be able to require domestic violence and stalking offenders to wear GPS Monitoring Bracelets to help protect victims.


In 2008, when the CLB Foundation began its crusade, there were approximately 8 states that passed GPS Monitoring Legislation. Today (March, 2015) there are approximately 29 states that either have laws or are in the process of passing laws related to GPS Monitoring for domestic violence situations.